10 Things We Should Do Before We Break Up Movie Review
Title: 10 Things We Should Do Before We Break Up
Rating: Unrated, but contains sexual situations and language. Recommended for Adults 18 and up.
Starring: Christina Ricci and Hamish Linklater
Directed by: Galt Niederhoffer
Release Date: February 21, 2020
Available on Hoopla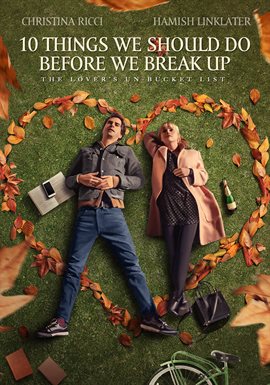 If you're a fan of small-budgeted, independent films about quirky, romantic relationships, you may enjoy 10 Things We Should Do Before We Break Up.
Christina Ricci stars as Abigail, a single mother of two, who meets immature, emotionally unstable Ben, played by Hamish Linklater. Upon first meeting on a blind date, Abigail and Ben create a list of "10 Things We Should Do Before We Break Up." After Abigail finds out she is pregnant with Ben's baby, the two tentatively decide to start a relationship.
As a Christina Ricci fan (Casper, Now and Then, The Addams Family movies), and a romantic comedy buff, I looked forward to this movie. I thought that 10 Things We Should Do Before We Break Up demonstrated Ricci's and Linklater's acting talents, particularly with Abigail's unease in dealing with Ben's volatile mood swings. However, the movie's plot did not move very quickly, and some scenes just went on longer than necessary.
For those looking for a mainstream Hollywood romantic drama/comedy with a satisfying, traditional Hollywood ending, this movie may disappoint. Fans of Christina Ricci and/or independent movies will appreciate the realistic story line and the clever dialogue. – Kristen